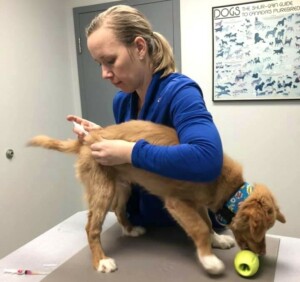 At the Yellowhead Veterinary Clinic, our team is committed to providing both clients and patients a safe and comfortable experience from start to finish! 
We are pleased to offer a low stress, fear-free environment.  We strive to create a calm, relaxing clinic atmosphere and have implemented fear free handling and restraint techniques to minimize anxiety, to help build trust, and to practice low-stress veterinary care. 
We incorporate the use of treat rewards as well as the option of pre-visit pharmaceuticals to help keep your pet as comfortable as possible during their visit.
We want your pet to come for regular wellness checks, to help stay happy and healthy.  A fear free visit makes those experiences positive for all involved…the pet, the client and our team!  Contact us for more information, or please feel free to click on the link below for more information about the fear free vision for pet care!